1. General Information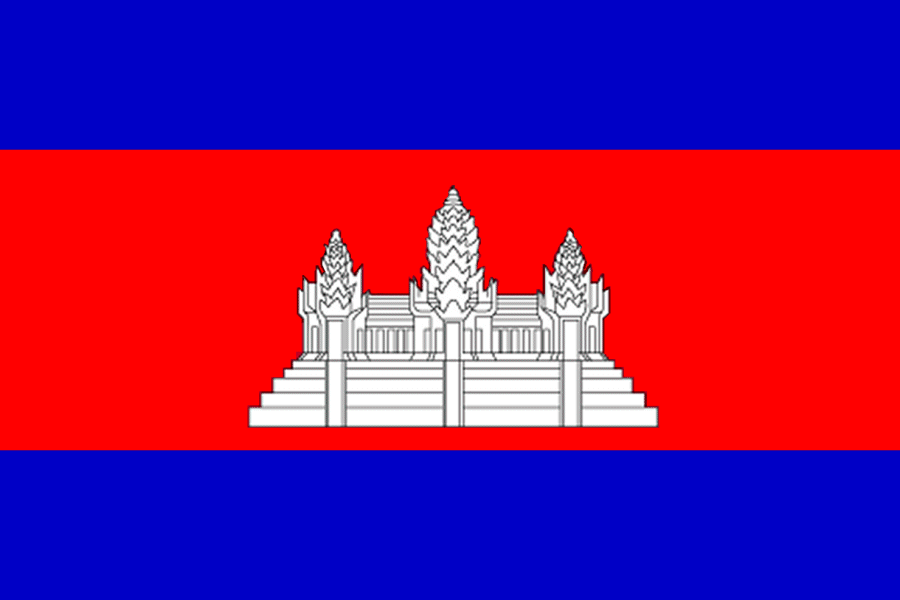 - Country: Cambodia
- Capital: Phnom Penh
- Area: 181,035 km2, ranked 90th in the world.
- Geographical location: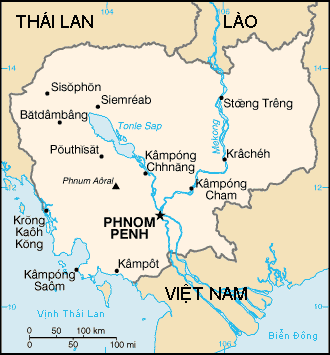 It borders Thailand to the north and west, Laos to the northeast, and Vietnam to the east and southeast. It has a 443-kilometer (275 mi) coastline along the Guft of Thailand
- Climate:
Cambodia's climate is tropical wet and dry. It has a temperature range from 21 to 35 °C (69.8 to 95.0 °F) and experiences tropical monsoons. Cambodia has two distinct seasons. The rainy season, which runs from May to October, can see temperatures drop to 22 °C (71.6 °F) and is generally accompanied with high humidity. The dry season lasts from November to April when temperatures can rise up to 40 °C (104 °F) around April.
- Terrain:
Cambodia's landscape is characterized by a low-lying central plain that is surrounded by uplands and low mountains and includes the Great Lake and the upper reaches of the Mekong River delta. Extending outward from this central region are transitional plains, thinly forested and rising to elevations of about 650 feet (200 meters) above sea level.
- Administrative unit:
Cambodia is divided into 25 provinces including the capital. Municipalities and districts are the second-level administrative divisions of Cambodia. The provinces are subdivided into 159 districts and 26 municipalities. The districts and municipalities in turn are further divided into communes (khum) and quarters (sangkat).
- Language:
Khmer, French, English.
Cambodia is a homogeneous country with more than 90% population speaks Khmer. French and English is widely used in Cambodia as a second language
- Currencies: Riel. Exchange rate: 1 USD = 4062 Riel
- Independence : 11/09/1953.
2. Economy
- GPD growth rate:
+ GPD growth rate in 2013: 7.3%
+ GDP 2013: 17:25 billion
+ GDP per capita in 2013: $ 1.108
Cambodia's economy is considered to be one of the most open economies in Asia with a large participation of the private sector and abroad. Cambodia is considered as potential country with natural resources, young workforce, cheap labor.
Cambodia is basically an agricultural country, the main economic sectors are agriculture, textiles and tourism.
- The structure of the economy:
+ Agriculture: 36%
+ Industry: 24.3%
+ Services: 39.7% (2012 est.)
Some characteristics of the economic structure:
Agriculture accounts 35% of GDP. Harvested Rice is estimated at over 6 million tonnes per year, exports about 1 million tonnes.. Cambodian Agricultural products are mainly rice, maize, groundnuts, rubber, tobacco, ...
- Industry: including textiles, construction, fishing, wood and wood products, rubber, cement, ore out, ... in which textiles, construction is the mainstay of the economy. The garment industry represents the largest portion of Cambodia's manufacturing sector, accounting for 80% of the country's exports. Cambodia also has some deposits of precious stones, ruby, gold, bauxite, .... In 2010, the growth rate of the industry reached 5.7%.
The tourism industry is the country's second-greatest source of hard currency after the textile in 1993 there were 118,183 international tourists, and in 2009 there were 2,161,577 international tourists. Most of the tourists were Japanese, Chinese, Filipinos, Americans, South Koreans and French, said the report, adding that the industry earned some 1.4 billion U.S. dollars in 2007, accounting for almost ten percent of the kingdom's gross national products..
- Fair Trade: The Fair Trade movement has led to a large number of handicrafts being exported for use around the world. Fair trade is used as a way to garner employment for the disabled and under privileged and is fuelled by many organisations who give aid to Cambodia.
- Export
+ Exports: $ 5.8 billion (2012 est.).
+ Export commodities: clothing, wood, rubber, rice, fish, tobacco, footwear.
(US 32.7%, UK 8.4%, Germany 7.7%, Canada 7.7%, Singapore 6.6%, Vietnam 5.8%, Japan 4.7% (year 2012))
- Import
+ Imports: $ 7.8 billion (2012 est.).
+ Imported commodities: petroleum products, cigarettes, gold, construction materials, machinery, motor vehicles, pharmaceuticals.
(Thailand 27.2%, Vietnam 20%, China 19.5%, Singapore 7.1%, Hong Kong 5.9%, South Korea 4.3%)
II. SOCIETY
1. Population:
Population 7/2013: 15,205,539 people.
The population growth rate: 1.67% (2013 est.).
Population density: 74 people / km2.
The proportion of poor people: 56.5% (living below $ 2 / day).
The rate of literacy (age 15 and up): 77.6% (males: 85.1%, female 70.9%) (data 2008).
Age:
+ From 0-14 years: 31.7% (male 2,428,507 / female 2,397,327)
+ From 15-24 years: 21.2% (male 1,597,990 / female 1,627,161)
+ From 25-54 years: 38.2% (male 2,828,752 / female 2,985,226)
+ From 55-64 years: 4.9% (male 287.073 / 464.991 female)
+ From 65 years and over: 3.9% (male 221.356 / 367.156 female) (2013 est.)
+ Population Cambodian children, aged 0-24 years old accounted for 53% of the population.
+ Population in the capital: 1.55 million people (2011).
+ Labour force by occupation:
Agriculture: 55.8%
Industry: 16.9%
Services: 27.3%.
2. Ethic group
The largest ethnic group in Cambodia are the Khmers, who comprise around 90% of the total population in Cambodia, and are indigenous to the lowland Mekong subregion in which they inhabit. The Vietnamese are the largest (or second largest) ethnic minority in Cambodia, with an estimated 400,000 - 700,000 living in provinces concentrated in the southeast of the country adjacent to the Mekong delta. Chinese Cambodians are approximately 1% of the population. Most Chinese are descended from 19th–20th century
3. Religion
Buddhism is the official religion of Cambodia, practiced by more than 95 percent of the population with an estimated 4,392 monastery temples throughout the country. Cambodian Buddhism is deeply pervaded by Hinduism, Tantrism, and native animism. Key concepts in Cambodian Buddhism include bonn (Pali punna, merit), reincarnation, and kamm (Pali kamma, karma), which means the moral result accruing from action in Pali but a concept closer to "misfortune" in Khmer.