I. MARKET OVERVIEW
1. General information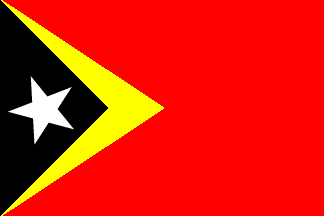 - Country name: Democratic Republic of Timor-Leste
- Area: 14,874 sq. km
- Location: East Timor is an island in the Oceania, which includes the Eastern half of the Timor island, the surrounding islands of the Atauro and Jaco and the Oecussi (Ambeno), 1 part in the NorthWest of the island, in the West Timor of Indonesia.
- Climate: Tropical, hot, humid; distinct rainy and dry seasons:
+ Dry season: From May to December
+ Rainy season: From December to April
- Terrain: Mountainous
- Administrative division: 13 administrative districts; Aileu, Ainaro, Baucau, Bobonaro (Maliana), Cova-Lima (Suai), Dili, Ermera (Gleno), Lautem (Los Palos), Liquica, Manatuto, Manufahi (Same), Oecussi (Ambeno), Viqueque.
- Languages: Tetum (official), Portuguese (official), Indonesian, English. There are about 16 indigenous languages; Tetum, Galole, Mambae, and Kemak are spoken by a significant portion of the population
- Independence: 28/11/1975
- Currency: United States dollar (USD)
2. Economy
- GDP growth rate:
+ GDP growth rate in 2012: 10% (ranked 10th worldwide)
+ GDP per capita in 2012: USD 1,068.00
- GDP composition by sector:
+ Agriculture: 4.3%
+ Industry: 68.3%
+ Service: 27.4% (2012 est.)
- Exports:
+ Export value: USD 34.1 million (2011).
+ Export commodities: oil, coffee, sandalwood, marble.
- Imports:
+ Import value: USD 689 million (2011).
+ Import commodities: food, gasoline, kerosene, machinery
II. SOCIETY
1. Population
- 1,172,390 (July 2012 est.)
- Population growth rate (2013 est.): 2.47%.
- Literacy (age 15 and over can read and write): 58.3%.
- Age ratio:
0-14 years: 42.7% (male 257,340/female 243,174)
15-24 years: 19.7% (male 116,605/female 114,203)
25-54 years: 29.3% (male 166,048/female 177,024)
55-64 years: 4.8% (male 28,717/female 27,011)
65 year and over: 3.6% (male 20,428/female 21,840) (2013 est.)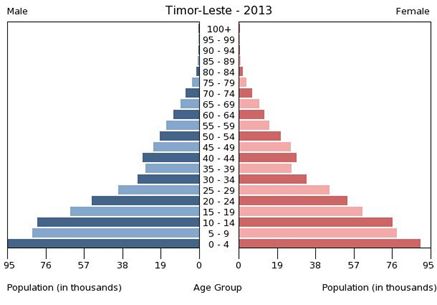 -> East Timor's population is young: 62.4% of the population is from 0-24 years old.
-> Urban population: 28.3% (2012).
-> Population in Dili capital: 137,879
- Labour force by occupation:
+ Agriculture: 64%
+ Industry: 10%
+ Services: 26%.
2. Ethnic groups
East Timor's people consists of a number of distinct ethnic groups, most of whom are of mixed Malayo-Polynesian and Melanesian/Papuan descent. The largest Malayo-Polynesian ethnic groups are the Tetum (or Tetun), who lives primarily in the North coast and around Dili; the Mambae in the central mountains; the Tukudede in the area around Maubara and Liquiçá; the Galoli who lives among the Mambae and Makasae tribes; the Kemak in the island of the North-Central Timor and the Baikeno in the area around Pante Macassar.
The main tribes of predominantly Papuan origin include the Bunak in the central interior of Timor island; the Fataluku at the Eastern tip of the island near Lospalos; and the Makasae in the East end of the island.
In addition, like other old colonies of Portugal, as a result of common interracial marriage between races, there is a small population of mixed East Timorese and Portuguese origin, known in Portuguese as mestiços. The most famous mestiços East Timorese is José Ramos-Horta, the once spokeperson of the overseas revolution movement, which is the incumbent President of East Timor. Mário Viegas Carrascalão, the Governor appointed by Indonesia from 1987 until 1992, is also a Mestiços.
There is a small Chinese minority, most of whom are Hakka. Most of them left the country after the invasion of Indonesia.
3. Ethnic characteristics:
- Trust in people
- Expected to self-study, to reach out to the world
- Sensitive, sometimes hot tempered
- Kind hearted, forgiveness
- Proud of local language, independence from Indonesia
- Open to assistance from the outside
- Curious, especially about foreigner
- Eager to self express to others
- Don't want to be imposed by rules that is inconsistent with their culture and thoughts
- Religious belief: respect for elders, ancestors and the nature.
4. Religion
Roman Catholic 91%, Protestant / Evangelical 3.5%, Muslim 3%.
Roman Catholic was introduced to East Timor by the Portuguese since 1515, however, this belief started to widespread from 1556 at the arrival of the Dominican friar, António Taveira. The East Timorese were not forced to convert however if a local chief converted many of his people would convert as well. The Catholic rites became vernacularized since 1975 when Indonesia occupied the land of East Timor. The Catholic Church became the only protector of people and the rallying point for resistance.