Laos
I. OVERVIEW
1. General information
- Name of country: Lao People's Democratic Republic
- Area: 236,800km2, 84th position in the world.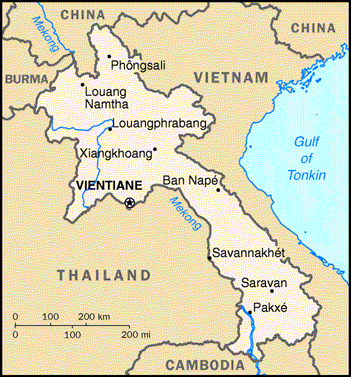 - Geography: Laos lies in Southeast Asia, in the center of the Indochina peninsular. Laos is a landlocked country which borders China in the North (505 km); Cambodia in the South (535 km); Vietnam in the East (2,069 km), Myanmar in the North West (236 km); and Thailand in the West (1,835 km).
- Climate: Tropical monsoon with 2 seasons:
+ Rainy season: from May to November, temperature is around 30o C, rain frequently falls, some years caused floods in the Mekong.
+ Dry season: from November 11 to April, temperature is around 15o C, sometimes 0o C in the mountains.
- Terrain: 90% of the land is mountainous, some deltas and highlands.
- Capital city: Vientiane.
- Administrative divisions: 16 provinces, 143 districts (muang) and 8,649 villages (ban).
- Languages: Laos, French, English.
- Currency: Kip. Exchange rate (6/2014): USD 1.00 = 8,057.00 Kip
- National day: 2/12/1975.
2. Economy
- Economic growth:
+ GDP growth rate (2013 est.): 8,3%
+ GDP per capita (2013 est): USD 3,100.
+ GDP growth rate graph:
Laos Government started to implement economic reform policies since 1986. Thanks to these innovative measures, the country could achieve average growth rate of 6% in the period from 1988 to 2008. From 2008, Laos always maintains a pretty high GDP growth rate, average of 7,6%. Despite enjoying a fair economic growth, the country's infrastructure is still poor, especially in rural areas. Road systems are in basic condition, electricity has not reached remote areas. The economy depends on agriculture which accounts more than 30% of GDP, labour force in agriculture represents 70% of the total work force.
In the second half of 2008 and the beginning of 2009, Laos received approximately USD 560 million grant from the United States. Poverty rate decreased from 46% in 1992 to 26% in 2009. Thanks to foreign investment in thermal power sector, mining, construction the economy made significant steps forwards.
Laos finalized all official negotiation rounds to enter the WTO in February 2013.
- GDP composition: Agriculture: 24.8%
Industry: 32%
Services: 37.5% (2013 est.)
- Some facts of the economy's composition:
+ In recent years, the services sector maintains a growth rate of about 10%, industry 7-10%, agriculture 2-4%.
+ Major industrial activities in Laos include mining, hydro power, forestry, textile, cement, tourism.
+ Main agricultural products include: sweet potato, potato, vegetable, cereal, coffee, sugar cane, tobacco, fabric, tea, rice, peanut, water buffalo, pig, goat and other poultries.
+ The majority of goods are imported from Thailand. In recent years, Chinese goods penetrate the market via small tracks, especially telephone, tools, children toys…
- Exports:
+ Export value: USD 2,3 billion USD (2013 est.).
+ Exported commodities: wood products, coffee, electricity, tin, copper, gold, cassava.
+ Export partners: Thailand 34%, China 21.5%, Vietnam 12.2% (2012).
- Imports:
+ Import value: USD 3.2 billion USD (2013 est.).
+ Imported commodities: machinery and equipment, vehicles, fuel, consumer goods.
+ Import partners: Thailand 62.1%, China 16.2%, Vietnam 7.3% (2012)
II. SOCIETY
1. Administrative division
The administrative division of Laos composes of 4 levels: 1 central level and 3 local levels. The highest grade of local level is province, the second includes district and town and the last is village.
The capital city of Laos is Vientiane and the second largest city is Luang Prabang. Savannakhet and Pakse are also large cities in Laos.
Vientiane is meant a "moon city", which became the capital city of Laos since 1563. Located on the left bank of the Mekong river, to the North West of the country, Vientiane is 3,920 km2 large and has the population of around 1 million people. As the largest cultural, commercial, administrative and economic centre of the country, Vientiane is also a famous tourist attraction which is an economic focal point of the city. Many beautiful landscapes, huge and ancient pagodas which are centres of festivals characterizing Lao cultures.
Luang Prabang has the meaning of Huge golden Buddha, which used to be the royal city of the kingdom of Lan Xang (Million Elephants) from the 14th century until 1946. Today, Luang Prabang is well known for its beauty tourist attraction and is recognized by the UNESCO as the world's heritage.
2. Population
- Population by 7/2013: 6,695,166 people.
- Population growth rate 1.63% (2013 est.).
- Population below poverty line: 56.5% (spend less than 2 USD/day).
- Literacy (from 15 years old): 72.7% population.
Ages:
- From 0-14 years: 35.5% (male 1,198,288/female 1,178,180)
- From 15-24 years: 21.3% (male 706,679/female 716,368)
- From 25-54 years: 34.6% (male 1,143,265/female 1,174,102)
- From 55-64 years: 4.9% (male 160,650/female 166,605)
- From 65 and over: 3.7% (male 113,301/female 137,728)
- Rate of urbanization: 34,3% (2011)
- Population of Vientiane: 997.767 people (8/2013).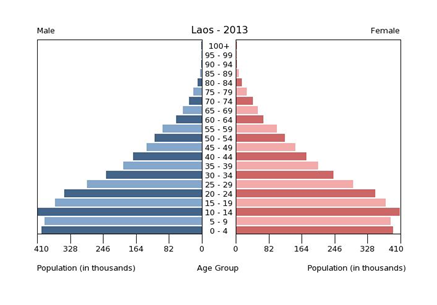 3. Characteristics:
More than 75% Lao population live in rural areas and engage in farming, even though the urbanization process is occurring rapidly. There are 4 main ethnic groups: Lao Loum who live in the deltas; Lao Tai, who live in valleys of mountainous areas; Lao Theung, live on mountain's slopes and valleys; Lao Soung, who are mountainous dwellers living on places over 900m height. Apart of those, there are more than 60 other ethnic minorities in Laos.
4. Religions
Buddhist 67%, Christian 1.5%, other and unspecified 31.5% (2005 census).
Buddhism is the most popular belief in Laos, which is followed by 67% of the Lao population and most of the Lao people. The number of Buddhist followers can be higher, as Buddhist has strong impact on many other ethnic groups, who always consider themselves animists. The majority of Lao people are Theravada Buddhist but inherited historically from Mahayana Buddhism. This is also the main belief of the Vietnamese and Chinese ethnic people who live amongst the Laotians.
In the Lao community, pagoda and temple are centers of the community's activities, where the villagers gather and discuss their concerns or seek for advice and instruction from the monks. Most of the men will move to stay in pagodas for a certain period of time to grasp more knowledge and dedicate merit.
5. Literacy
73% of the population over 15 years old can read and write (83% male, 63% female)
Language: Popular languages spoken in Laos is Lao language, Thai language, English and some ethnic languages.