Mozambique
I. OVERVIEW
1. General information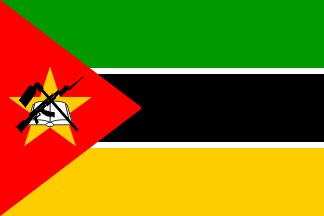 - Country name: Republic of Mozambique
- Area: 799.380 km2 (2.5 times larger than Vietnam).
- Location: Southeastern Africa, bordering Tanzania in the North, Swaziland and South Africa in the South, Malawi, Zambia and Zimbabwe in the West, and the Indian Ocean in the East.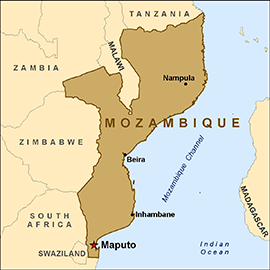 - Climate:
Mozambique lies in tropical monsoon climate region with 2 seasons: rainy season and dry season:
+ Dry season: April to September with average temperature of 21 – 31၀C.
+ Rainy season: October to March with average temperature of 13 – 24၀C.
- Terrain: mostly coastal lowlands, highlands in center, plateau in the Northwest, mountains in the West.
- Language: Portuguese, Emakhuwa.
- National day: 25/6/1975
- National animal: Elephant (Africa).
2. Administrative Divisions
Mozambique is divided into 10 provinces (provincias, singular - provincia) and 1 capital city (cidade capital); The 10 provinces are divided into 138 districts (distritos). The districts are then divided into 405 administrative points, then 2,171 localities.
Characteristics of some cities/provinces in Mozambique:
– The capital city of Maputo: is the largest city in Mozambique which is located to the Southeast of the country with a well-equipped sea port and international airport.
– Nampula is the third largest city in Mozambique after Maputo and Beira. Located in the Northeast of Mozambique, Nampula is the trade center in the North, which is 1,600 km from Maputo.
3. Economy
- Growth rate:
+ GDP growth in 2012: 7.4% (ranked 33th worldwide)
+ GDP per capita 2012: USD 579.00
- Mozambique is an agricultural country. Subsistence agriculture employs about 81% of the country's work force and contributes around 23.1% to the country's GDP. Main agriculture products: cotton, cashew nuts, sugarcane, tea, cassava (tapioca), corn, coconuts, sisal, citrus and tropical fruits, potatoes, sunflowers; beef, poultry. Cashew nut export volume used to reach 29,000 metric ton per year. Agriculture production does not meet domestic demands, thus, Mozambique has to import 20,000-30,000 metric ton of rice every year.
- Industry only attracts 6% of the total workforce, contributing 30.2% to the GDP. The Cahora Bassa Dam helps increase its electricity exports and fulfill the needs of its burgeoning domestic industries. Main industrial products: aluminum, petroleum products, chemicals (fertilizer, soap, paints), textiles, cement, glass, asbestos, tobacco, food, beverages.
- Service sector in Mozambique is quite developed, attracting 13% of total workforce, and contributing 46.7% to GDP (2007). Port and terminal services also become Mozambique's source of foreign currency.
- Economic structure: Agriculture: 29.5%
Industry: 23.9%
Services: 46.5% (2012 est.)
- Exports:
+ Export: USD 3.5 billion (2012 est.).
+ Export products: aluminum, prawns, cashews, cotton, sugar, citrus, timber; bulk electricity
+ Export markets: South Africa: 30.9%, Belgium: 12.8%, China: 9%, Ý 7.8%, Spain: 6.2%, India: 5.6% (2012).
- Imports:
+ Import value: USD 6.167 billion (2012 est.).
+ Import products: machinery and equipment, vehicles, fuel, chemicals, metal products, foodstuffs, textiles.
+ Import markets: South Africa: 30.7%, China: 12.2%, India: 11.4%, United States: 5.1%, Portugal: 4.8%, Australia 4.4% (2012).
II. SOCIETY
1.Population
- Total population by July 2013 (est.): 24,692,144.
- Growth rate (2013 est.): 2.44%.
- Density: 28.7 /1 km2.
- Rate of people living below poverty line: 81.6% (below 2USD/day).
- Literacy rate (aging 15+): 56.1%.
- Age structure:
0-14 years: 45.7% (male 5,405,274/female 5,350,732)
15-24 years: 20.7% (male 2,356,035/female 2,523,416)
25-54 years: 27% (male 2,977,477/female 3,382,830)
55-64 years: 3.5% (male 388,640/female 435,519)
65 years and over: 3% (male 320,066/nữ 375,945)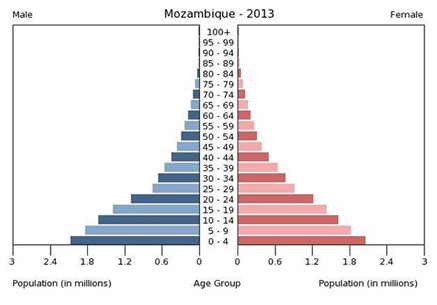 - Mozambique population is young, age from 0-24 accounts for 66.4%.
- Urban population ratio: 38.4% (2012).
- Population in cities: Maputo (6.1%), Baucau (11%), Ermera (2.8%).
- Population allocation:
+ Agriculture: 81%
+ Industry: 6%
+ Services: 13%.
2. Class Discrimination
There exists clear class discrimination in Mozambique. Normally, the rich live in cities while the poor live in villages. Those of higher class separate themselves from the poorer class due to the differences in education and healthcare conditions.
Such discrimination is also represented in geographical areas. Most of the population, the rich and government bodies are located in the South, near Maputo. This place is more developed, with better infrastructure. This is one of the fact that leads to tension between these 2 regions.
3. Ethnic groups
Mozambique has 64 ethnic groups with 9 larger groups. Makhuwa – Lomwe is the largest group which accounts for 50% of the population who live in the South. 3% of the population are from Europe, India, China, Pakistan and Mestizo (mixed of African and European). They live in provinces along the coast and do non-agriculture job such as teacher, lawyer, worker,... Today there is around 1.1 million expatriates living in Malawi and Zimbabwe.
4. Religions
Roman Catholic 23.8%, Muslim 17.8%. The rest are other religions and infidel.